Type: Skin Care
Available: Available
Currently there are
people looking at this product
Natural 
Organic 
Cruelty-Free  
Paraben Free
Sulphate Free 
Clinically Proven  
Dermatologist Recommended
Discover how this great facial cleanser can transform your skincare routine and provide you with the desired healthy, glowing complexion.
Benefits:
Soothing rosewater nourishes and revitalizes skin.
Gentle formula effectively removes dirt, oil, and makeup without disturbing skin's pH balance.
Luscious, creamy SLS-free base provides a luxurious cleansing experience.
Leaves skin feeling soft, smooth, and refreshed.
Nourishing ingredients such as jojoba, avocado, and aloe Vera hydrate and moisturize skin.
 How to Incorporate Rose Face Wash into Your Skincare Routine
Enhancing your skincare routine with our Rose Face Wash is simple. Follow these steps to make the most out of this extraordinary product:
Start by moistening your look with lukewarm water.
Dispense an adequate amount of the Rose Face Wash onto your palm.
Gently rub the cleanser onto your face using circular motions, ensuring complete coverage.
Rinse thoroughly with water, ensuring no residue is left behind.
Pat your face dry with a soft towel.
Follow up with your favorite moisturizer from the Cheek & Chin range for optimal results.
Ingredients:
Rosa Damascene Flower Water, Glycerin, Jojoba, Avocado, Vitamin D, Panthenol, Aloe Vera, Glycyrrhiza Glabra Extract, Hydroxypropyl Methyl Cellulose
Deep Cleansing and Gentle Care
Our Rose Face Wash offers a unique combination of deep cleansing and gentle care. Its luxurious, foaming texture effectively removes impurities, excess oil, and makeup residue, unclogging your pores without stripping away your skin's natural moisture. Experience the refreshing sensation as our face wash purifies your skin, leaving it feeling clean, soft, and revitalized.
Soothing and Calming
The rose extract infused within our face wash provides exceptional soothing properties. It helps to relieve redness, irritation, and inflammation, making it an ideal choice for sensitive and delicate skin. Pamper yourself with the gentle touch of roses and enjoy the comfort it brings to your daily skincare routine.
Hydration and Nourishment
Achieving and maintaining optimal skin hydration is essential for a healthy complexion. Our Rose Face Wash ensures your skin receives the nourishment it deserves. The formulation includes moisturizing agents that replenish your skin's moisture barrier, promoting hydration and preventing dryness. Indulge in the hydrating benefits of our face wash and unlock the secret to radiant, supple skin.
Anti-Aging and Radiance Boosting
Age gracefully with our Rose Face Wash, which boasts remarkable anti-ageing and radiance-boosting properties. The rich antioxidants found in roses help combat the symptoms of ageing, such as fine lines and wrinkles while promoting a youthful glow. Restore your skin's vitality and embrace a youthful appearance with every use.
Natural and Ethical
We take pride in our commitment to making products that are productive and ethical. Our Rose Face Wash is crafted with love, using only natural ingredients and without the inclusion of harsh chemicals, parabens, or sulphates. Join us in our pilgrimage towards a more tolerable and environmentally friendly skincare routine.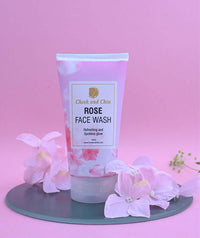 Rose Face Wash
Rs.850.00